SHOULD THE HOUSE OF LORDS NOW GO?
One of the rallying calls of the Brexiteers was that Britain should take back control of, well, everything, from foreigners in Brussels, Strasbourg and Luxembourg.
The EU was, they reckoned, an undemocratic organisation and things were better when they were controlled by the "democratic" British parliament and the British Courts.
Of course, as arguments go, it was a bit, or rather a lot, dubious, but it went down well with people who wanted to believe that kind of thing. You know, Daily Mail, Express, Telegraph and Sun reader types.
After all, if any nation in Europe should be wary of banging on about democracy or the lack thereof, it is the UK, with its hereditary head of state, unelected, partly-hereditary, partly-state-church-based, partly-appointed (by dubious methods) house of aristocrats. And that's before we look at First-Past-The-Post and Privy Council Orders and the various and sundry other ways that the government can get around any scrutiny.
It took very little time after the Brexit vote for this to come to a head. The Tories wanted to bypass parliament to enable a 'strong and stable' Brexit. The declaration of Article 50 was to be made under royal prerogative and not a parliamentary vote. And it took the interventions of the English High Court and then the UK Supreme Court to squash that idea.
Needless to say, the newspapers that had called for decisions to be made in our own British parliament and our own British courts, screamed, echoing the language of  1930s' Germany, about "Enemies of the People".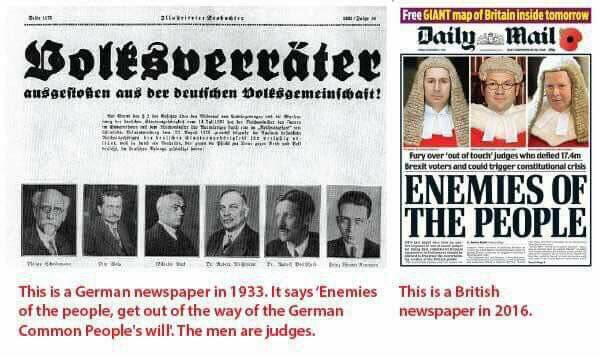 Of course, they were roundly ridiculed for this at the time as people pointed out that the tabloids were protesting against the very thing that they had sold us as an advantage of Brexit.
But it seems that they learned nothing as they are back today, at least in the English editions of the papers. They even used the same background, which I assume stirs the blood of a certain kind of person.
Now, as a republican, I abhor the idea of a House of Lords. Dukes, Earls, Archbishops and greasy party donors have no place in a democracy, and given the opportunity, I would get rid of them tomorrow and replace them with a senate.
But the fact is that at present the House of Lords exists and has a job to do as a revising chamber. They did that job. They revised and they put forward suggestions for revision of the Bill to be considered by the Commons. That is what their job is, whether any of us like it or not and for whatever reason.
If they are not to do that, or if the Commons should automatically overturn, what exactly is their purpose? Another tourist attraction like the Saxe Coburgs?
I assume that the Express and Mail and their likes do not wish us to pay these people £300 a day for sitting sleeping and producing absolutely nothing? Or maybe they do! So regardless of today's debate, can we hope to see a full-blown campaign from the right of the Tories and of course the rightwing tabloids, to abolish the upper house. And can we hope that this will be done before the lavish and inordinately expensive refurbishment of their accommodations gets underway?
And last, but not least, will the London parliament today show any respect at all for Scotland and what its people voted for?