Not long after the referendum, Terry Entoure pointed me in the direction of "Brexit: What the Hell Happens Now?" a book by Ian Dunt, the editor of Politics.co.uk.
In the first chapter, Dunt paints a doomsday scenario of a no deal exit, a scary, dystopian vision of the future. I was seriously worried by the time I finished. Fortunately, right at the end of the chapter, he admits that this is an absolute worst case scenario and highly unlikely to happen. The rest of the book is a little more upbeat.
But because the different factions of the Tories and the DUP can't agree on anything that would be even halfway acceptable to each other, never mind the European Union, and the clock that Monsieur Barnier pointed out was ticking over a year ago, is still heading to that 11 pm deadline on March 29, 2019, it is beginning to look like that is what we are heading for. For those in doubt, this is what it would look like.
May has always said that "no deal is better than a bad deal", but frankly it isn't true, any more than her other witterings have been… you know, like "being very clear" about stuff, and being "strong and stable" in government.
Today David Dark Money Mundell, a man who makes Jim Murphy look like a  halfway decent Secretary of State for Scotland, has said that a no deal scenario would be preferable to the break up of the United Kingdom.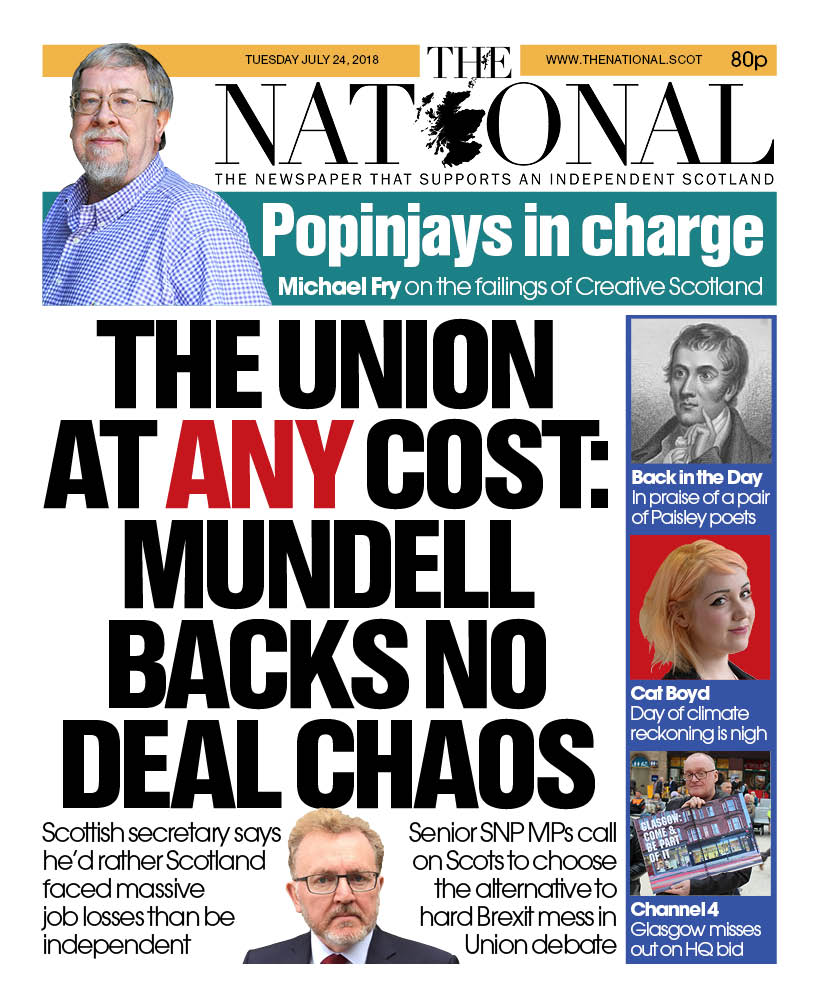 That as the UK government admitted that it was stockpiling medicines and foods against this eventuality, emergency measures are being drawn up, notes of advice will be issued to households over the coming months and Jacob Rees Mogg, Brexiter Extraordinaire admits that the UK could be looking at 50-60 years of austerity.
It's all an awfully long way from £350 million a week for the NHS.
I can only imagine that Muddle is speaking for himself on this matter. As a Cabinet Minister, I assume he wouldn't be obliged to suffer any of the privations that the rest of us would endure. But of course, his seat around the cabinet table and the ministerial car and fat salary would disappear overnight were there no Scotland to Secretary of State for.
He most certainly isn't talking for me, but then, I doubt that in his entire life he has ever spoken up for the likes of us… you know, ordinary Scottish people.
Still … look on the bright side, folks… We can always laugh at this stupid arse.