Boris won 114 votes in the first round of the Conservative Party leadership contest (and co-incidentally the contest for the prime ministership of the UK. His nearest rival, the foreign secretary with the name that it's easy to make a mess of, got a mere 43.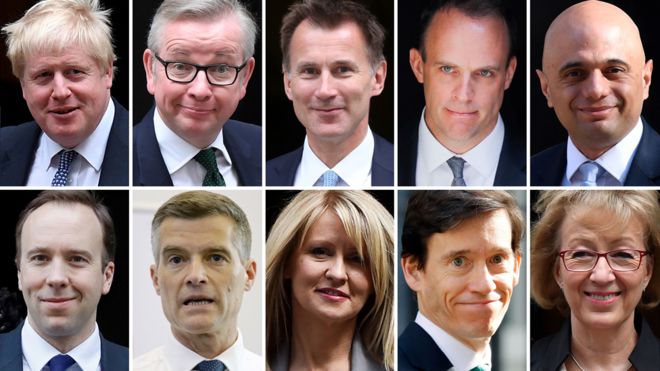 Mark Harper, Andrea Leadsom and Esther the Unliked, who came last with only 9 votes, were vanquished.
Scores were as follows:
• Boris Johnson 114
• Jeremy Hunt 43
• Michael Gove 37
• Dominic Raab 27
• Sajid Javid 23 (despite being backed by that well-known winner, the Colonel)
• Matt Hancock 20
• Rory Stewart 19
Eliminated: 
• Mark Harper 10
• Andrea Leadsom 11
• Esther McVey 9
It seems pretty certain that, unless he does something catastrophic and loses most of his support, Johnson will be one of the finalists.
I imagine though, that Hunt will partially catch up with him along the way. Already I can imagine that Mr Harper's votes may largely be transferred to Hunt or Gove, McVey's will almost certainly go to Boris, as will the majority of Leadsom's
In the next round, I imagine that Hancock and Stewart will be eliminated, and probably Javid and Raab too. Rory's votes likely to go to Hunt/Gove; Javid's too. Hancock's and Raab's more likely to go to Boris.
My prediction (barring something really weird from Boris) is that he will go forward, against either Gove or 'Unt, to the constituency of relatively elderly southern Tory voters, and win.
Meanwhile, Rory Stewart is threatening rebellion … (I put it down to the opium)
Rory Stewart says if Boris Johnson locks the doors of parliament to get No Deal he will 'bring him down'. 
Stewart says parliament will meet across the road at Methodist Central Hall and bring a Boris Johnson government down.
Whoever wins, I suspect that it is a fiction that the EU will reopen talks or change very much about the treaty that Theresa May signed with them, as this seems to suggest.