Sajid Javid, popularly(?) known as "the Saj" has just announced in a tweet that if he becomes prime minister (don't laugh, some are even more ridiculous… Munguin) he won't allow Nicola Sturgeon to hold an independence referendum. (You can laugh now… Munguin.)
Apparently we jocks made a decision in 2014,  and it was a decision that the Tories liked,  so that must be that, presumably for all time, (or as flip flop Davidson said recently, u-turning yet again on a previous statement, for 100 years or so).
Now, we all know the arguments for holding a second referendum, so I won't over-rehearse them here, but in essence, it comes down to Democracy… you know, the will of the people.
The Yes movement, including SNP and Greens, accepted, albeit reluctantly, that the vote in 2014 went against them. But, being mindful that that vote was influenced by last-minute promises made by David Cameron, Nick Clegg and Ed Miliband and for no particular reason co-signed by the leaders of their Scottish branch offices (none of whom would be your most trustworthy types), both the parties that favoured independence wrote into their manifestos for 2016 election, a proposal for a second referendum should Cameron et al, break their promises (as if), or should there be a dramatic change in the circumstances of the UK.
Just as well really, because Cameron did break promises, there has been a dramatic change in the circumstances of the UK, and they did win a majority.
It's worthwhile remembering at this point that a firm plank in the U KOK campaign was the argument that if Scotland left the UK it would be unceremoniously dumped by the EU, it would then go to the end of the queue behind Belarus or Armenia and other such places, membership wouldn't happen for decades if not millennia, and that that would be an utter catastrophe for the country.
But, given that that catastrophe has been visited upon us, despite voting to remain with the UK and therefore the EU, despite us voting 62-38 against leaving the EU, it's not surprising that the government and the Green Party are calling for that which was in their manifestos to be respected. You know, the will of (some of) the British people that the Tories keep banging on about.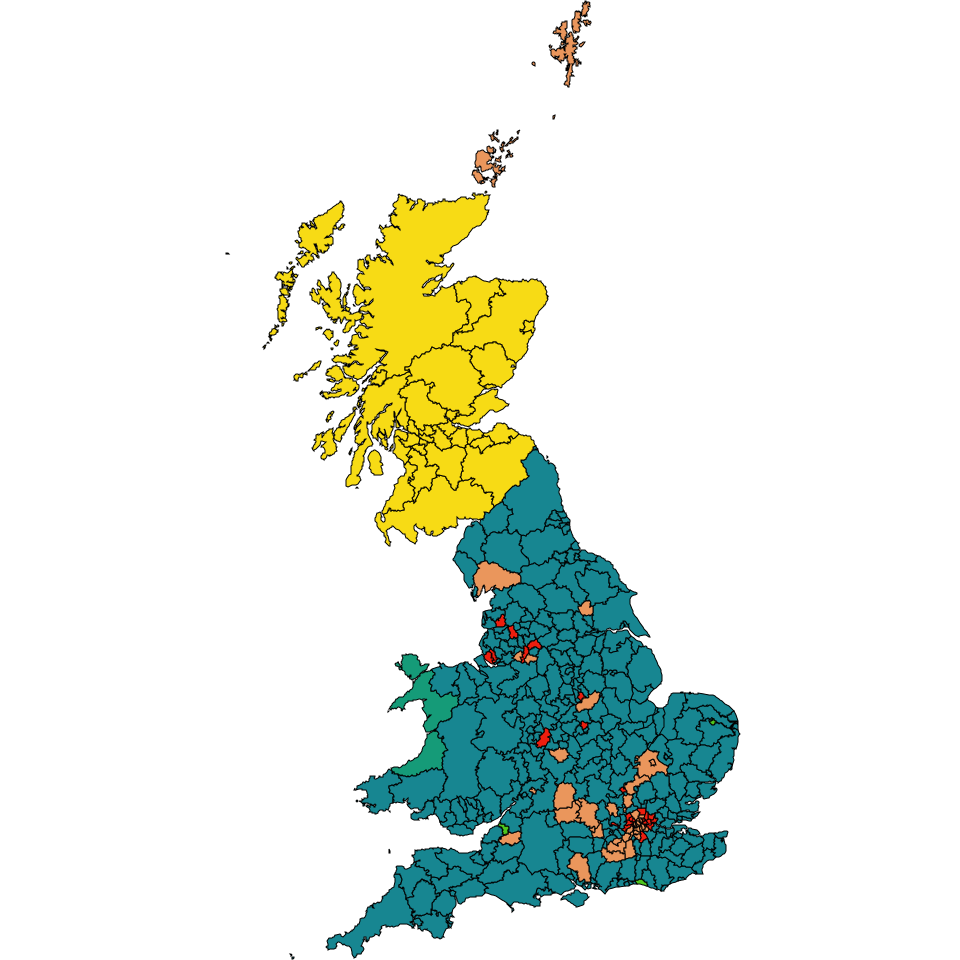 The recent vote in the Euro elections has only confirmed the split between how Scotland and England vote.
As for a vote in 2014 being seen as binding in 2020, Mr Javid seems to miss the fact that he is a member of a Cabinet that has brought back the same legislation on Brexit to their parliament three times within a few months without any circumstances changing, and indeed was proposing to bring it back for a fourth time until the leader of said Cabinet was given a none too gentle shove in the back with the promise of knives to come.
Javid clearly has absolutely no idea of what is going on in Scotland as his tweet continued:
"Nicola Sturgeon should spend more time improving public services in Scotland and less time grandstanding."
The Saj seems to be utterly unaware that on virtually every front, figures show that public services in Scotland are far better than those in other nations in the UK. We have more doctors, more nurses, NHS dental care, more police, less crime, better care of elderly, better coordination between health services and social care services, better trains, free university education and fewer problems with prisons and probation services (mainly down to the happy fact that Chris Grayling has been kept as far away as possible from our country!)
All in all, Scotland is a better place to live than most of the rest of the UK. It might have been an idea for Javid to check this out before he opened his mouth or let his fingers walk across his keyboard.
And, when it comes to "grandstanding"… don't make me laugh.
What about May announcing her resignation but refusing to go until Trump's unnecessary and wholly inappropriate state visit is over so that she can demit her benighted premiership on what she doubtless thinks of as a high note.
This is a state visit. May did not invite Trump. The queen did. It's about pomp and ceremony and tra la la stuff. Yes there are usually talks, but Trump might as well talk to Munguin. Any talks she has with him may as well be about the weather or his suntan. A few days after he gets on the AirForce One, she gets in Removal Van One.
Why could not her deputy, Livingstone or whatever he's called, have run the government side of the affair? May is finished now, never mind in June.
I'd also remind the Home Secretary that telling jocks what they can and can't do or have, is unlikely to impress us much and rarely has the desired effect. Although clearly, he is not trying to impress us.
His audience is the mainly English Tory MPs in Westminster and the mainly English, mainly elderly members of his party. So jock bashing sounds like a clever plan.
Anyone think he has got much of a chance?
**********
On the subject of this awful leadership contest that we are all having to go through, even before it has begun, why do all of them say over and over that they can unite the country, but fail completely to explain HOW they will do that when they can't unite their own party?
***********
I liked this answer to Javid's tweet from Femi Sorry.
Your party threatened Scotland that leaving the UK would mean leaving the EU in 2014, and now you not only want to drag Scotland out against its will, but refuse to let them decide if that's OK? If you become PM, then as I'M ACTUALLY FROM Bromsgrove, count on me to be a problem.
**********