**********
H & S Committee hearing Brexit has caused huge increase in vacancy rates for Care staff & ability to carry forward at least current standards is "threatened by Brexit". Those we want to be cared for will suffer because of Brexit.
**********
**********
According to a study carried out by Oxford Economics, unless we come to a good arrangement with the EU over immigration, we will need to increase taxes, by up to 5p in the pound.
It seems from their studies that immigrants make a greater net contribution to the state than natives do. This may be because they arrive already schooled and ready to start work, and a great number of them retire back to their home country and save the country the cost of old age.
"If the UK's new relationship with Europe involves reduced migration, this analysis suggests the tax burden on others will have to rise", they say.
**********
**********
It occurs to me, as Mrs Strong and Stable croaks on about the "will of the British people", that no one really knows what that is. Least of all Mayhem herself.
She didn't even know what Brexit was, except that it was Brexit, and it was Red, White and Blue.
UK wide, 48% of the people were motivated to vote for Remain, but of course, 52% voted to leave.
Almost everywhere you look the UK is split about what it should mean. The Tories and Labour are both split. England and Wales voted one way; Scotland, NI and Gibraltar the other way. And Brexit, which the idiot prime minister couldn't define, means different things to different people.
My point is that "the will of the British people" (or 52% thereof) probably comprises a pretty wide spectrum of points of view.
What did Neil of Newcastle, Sally of Stoke on Trent, or indeed Cathy from Clachnacudden or Billy from Blaenau Ffestiniog actually vote for?
Some will have read excellent pieces online, on blogs or Twitter.
And some will have read in-depth financial reports from learned academics. Others will have taken the Financial Times and daily faithfully ploughed through it.
Many more, I suspect though, will have been influenced by the headlines in the Sun, Telegraph, Star, Express and the Devil's own journal, the Daily Mail. After all, who can forget the story of an old woman being carted off to casualty with a broken arm the day after the referndum, and demanding to know why the Iraqi doctor that was treating her had not gone home.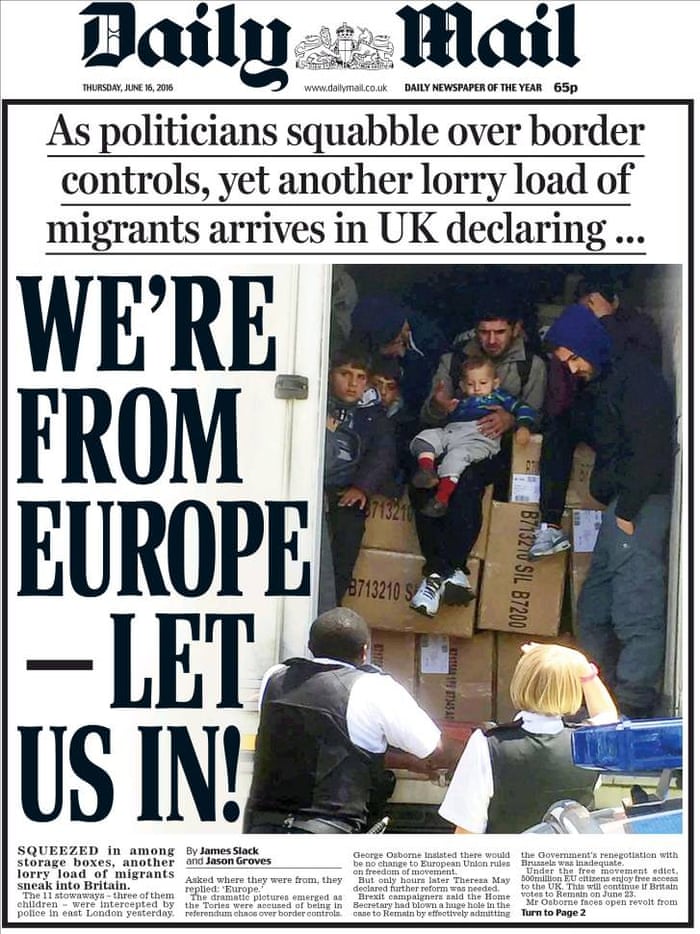 They will have seen this kind of thing, daily on the newsstands.
They will have read about £350 million a week that we apparently send to Brussels and which they have promised to dedicate instead to sorting our four ailing health services in these islands.
And they will have swallowed the line repeated everywhere about taking back control of borders, laws, and money (eh? Never understood that!).
If this is true, surely any kind of deal, which, remember, will require compromise on both sides, will not be suitable for them. You can't take back control and then immediately cede it. Can you?
No, I suspect that many of these people voted to strike out on their own.
No deals. No compromises. No foreigners. No foreign laws. Nothing. Nada.
Just "Rule Britannia", iconic blue passports… or to be more accurate…passeports bleus iconiques and "Dieu et Mon Droit" (bloody foreigners get everywhere).
It will break,  and with a bit of luck break-up, the UK, but I suspect that that is what the British people voted for.
Mrs Maybot might like to reflect on that thought a while before she repeats "the will of the British people" ad nauseam.
**********