Some hastily scribbled notes on the latest developments.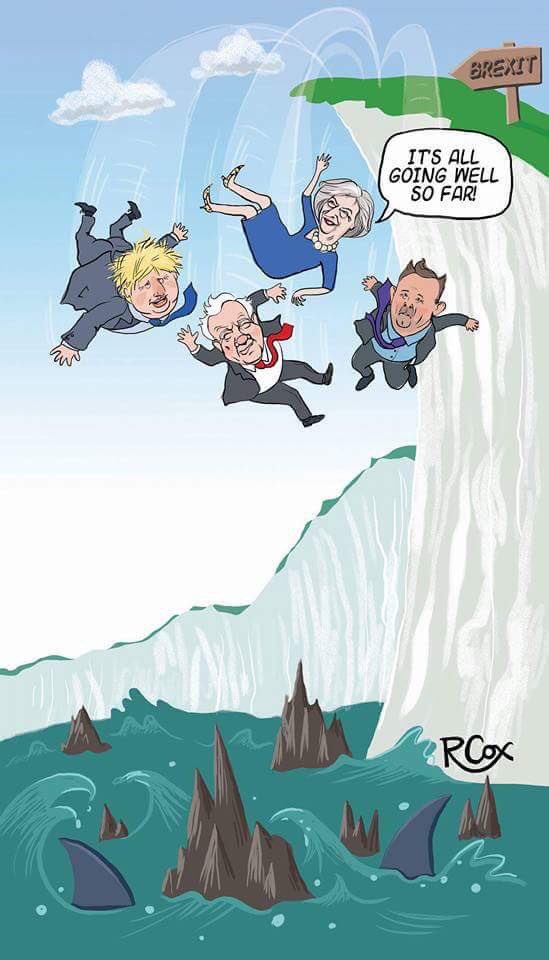 So we have eight-and-a-half months before we leave the EU. The last six of these are supposed to be for the consideration of the agreement between the UK and the EU negotiators by the Brussels parliament and by the parliaments of the 27 remaining members (including some regional or devolved parliaments).
So with effectively two-and-a-half months to go, the UK cabinet finally came to some sort of fractious agreement about a negotiating position, and, in keeping with the conduct of everything this Westminster government has done since Mrs May came to "power", everything has fallen apart within hours.
Not only has David Davis resigned as Brexit Secretary, but two of his junior ministers have also gone. The department has been left even more rudderless than it was last week.
By anyone's standards, the UK is in a bit of a laughing stock. In the two years since the referendum, until Friday, it had come up with no real suggestions about how to exit the EU. Friday's agreement, unbelievably, was hailed as a success by May who then announced that the EU must now respond.
Probably before they do, though, they will want to read the proposals and meet new ministers "responsible".
So far we know that Dominic Raab, a junior Housing Minister for the last few months, has been promoted to the Brexit cabinet post, arguably the most important job in government at the moment.
We don't know a lot about him, especially in Scotland, because he's an English MP and has been a relatively junior minister in English departments.
However, we do know that he is a solid Brexiteer, apparently trusted by the right wing of the party. In an earlier post at the English Ministry of Justice, he attempted to repeal the Human Rights Act and replace it with a British Bill of Rights. He failed, it is said, because he couldn't come up with a plan that was legally literate. He was, they say, a slogans man. So Brexit means Brexit will be right up his street.
He also was a member of a Facebook Private group that advocated abolishing council housing and bringing back the workhouse.
That May appointed a man with views like that as a Housing Minister says a great deal about what kind of vision May has.
Raab is quoted as saying: "Food banks are not about poverty but people with a cashflow problem". So that's OK then. (Maybe people would have fewer cashflow problems if Esther McVey would get her head out of lying backside and sort out the horrific problems of Universal Credit.)
So, like I say, about 10 weeks to go before the final proposals have to be made and to call the government "chaotic" would be to compliment them.
I suppose that the next question is: What about Boris and his well-reported comments on the plan being a turd? I mean you can say what you will about Davis being lazy and incompetent, but at least when push came to shove he had the cojones to resign.
What about BoJo? Will he be gone by the end of the day? The BBC reports that he has gone into hiding and even the Whips can't find him.
On the plus side, if he resigns it would mean that he won't be obliged to meet with the Orange Moron this week.