Conan sent this (for which, thanks).
Every time I've been on any of these AUOB marches the atmosphere has been so friendly. Marchers chat, laugh, share stories, and are polite and nice to each other.
There is, of course, always a small bunch of Union Jack flag wavers, most of whom also are polite and well behaved, although they do tend to be shouting slogans which I can never make out because of the noise of the tens of thousands of independence supporters marching with music and drums and enjoying themselves.
I always smile at the unionists as we go past. They believe what they believe and I believe what I believe. Most of the marchers do. Some ignore them, and presumably some shout back, although I've not witnessed that.
I remember last year in Edinburgh seeing Miguel (a Twitter mate) waving and blowing them kisses as he proudly carried his Rainbow flag.
I don't think we will ever convince the shouty people in these videos. I suspect that they create such bad publicity that they probably aren't popular among their own people. This is not what unionism really looks like, is it?
No. I think not, but their behaviour and that of the young Nazi saluters back 5 years ago, are the impression that we tend to get of them.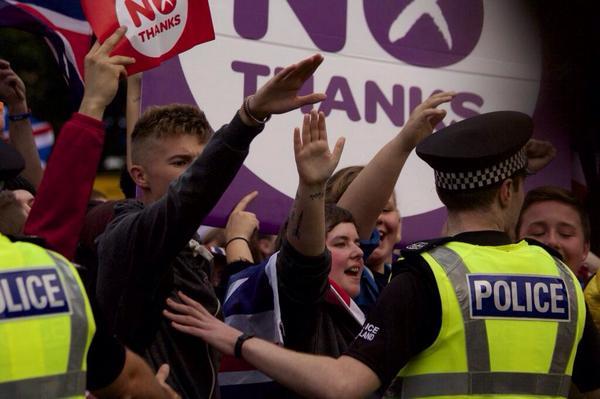 Sadly their "leader" seemed unwilling to condemn their behaviour, or indeed to discuss it at all.
But as Alex so rightly said in the last article:
"Surely Trump's N.H.S comment, which I see now he's trying to roll back on, must be a wake-up call to my generation who were substantially to blame for us losing the 2014 Independence Referendum.
"As my age increases, more and more I rely on the S.N.H.S to keep me alive, and if this threat to sell off one of our greatest national assets doesn't resonate with my fellow pensioners, I will really doubt their sanity."
I wonder if they will ever reflect on how much better services in Scotland, run by the SNP government, are in comparison to those in England run by the Tories.
Particularly the NHS,  and particularly because the people in the video at the top of this piece are at an age where they could find that they have a greater than average need of its services.
Maybe there comes a time to vote for self-preservation rather than for a British state that doesn't give a stuff about them and prefers spending its (our) money on punching above its weight.