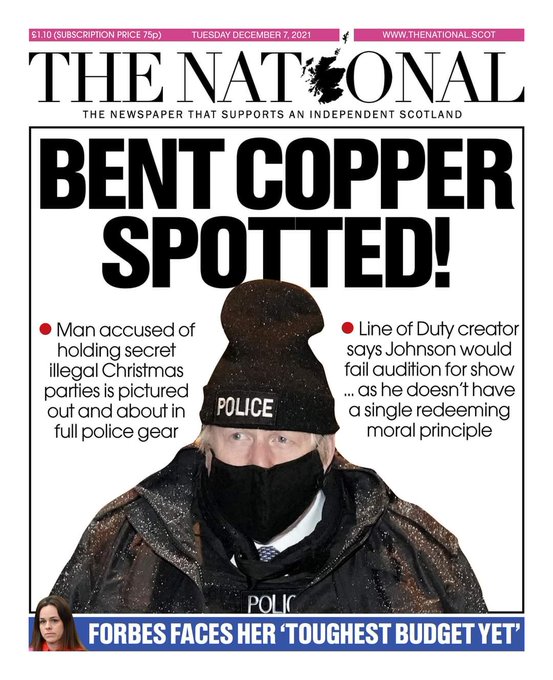 **********
**********
parami #EcoZealot @parami·
England: back to work from home. Extending mask wearing. Covid pass mandatory for nightclubs, etc. Negative lft also needed. Daily tests for contacts rather than isolating. Looking forward to seeing the response from Scottish Tories.
**********
**********
None of this is remotely defensible. Not having busy, boozy not-parties while others were sticking to the rules, unable to visit ill or dying loved ones. Nor flat-out denying things that are easily provable. Not taking the public for fools. And today's "we'll investigate what we've spent a week saying didn't happen and discipline staff for rules we continue to say weren't broken" was pathetic. As a Tory, I was brought up to believe in playing with a straight bat. Believe me, colleagues are furious at this, too.
Would this be the same Baroness Davidson who knew Johnson was so much of a liability that she launched Operation Arse to try to keep him out of Downing St but then bit his hand off to sit in the unelected Lords as a Tory peer?
**********

Andrew Bowie MP@AndrewBowie_MP· (as if anyone cares what he thinks!)
I agree with @Douglas4Moray. The govt must act to address these serious questions. At a time when it's entirely possible we may face more restrictions, the public needs to know that those at the top are following the same rules so we can focus on saving lives & protecting our NHS.
Bill Cruickshank@BjCruickshank
Been trying to 'phone my MP @AndrewBowie_MP 's office in Banchory on 01330 705013 to inquire whether he attended the infamous #Christmaspartygate shindig in Downing Street Dec. 18th 2020. Guess what? 3 rings & the line goes dead. Surprise, surprise! #YesScots
Munguin reckons they should pay their phone bills.
**********
In the meantime the Nationality Bill goes through parliament. It will give Patel the power to create second tier citizens.
Meanwhile, Priti Patel is handing herself new powers to create a second-tier category of British citizenship applying disproportionately to ethnic minorities
It's a big news day, I know. No-one really wants to talk about Clause 9 of the nationality bill. But that thing is going through the Commons today regardless and it is absolute poison
It allows her to strip Brits of their citizenship without telling them. They are not told why. They are not given the charges against them. And it is organised so that they have no viable practical right of appeal.
Ian Dunt@IanDunt·This is in addition to the other provisions in the bill, which criminalise the vast majority of refugees arriving in the UK and then imposes punishment conditions on them, including military barrack accommodation and prolonged separation from their family.
It's knackering to keep up with this stuff, I know. It's so dispiriting and it's tempting to look away. But that's what they're counting on. You have to hold the bastards to account.
Seriously, I didn't think I'd live to see a day like this. Of all people, the daughter of economic migrants bringing in a Bill like this.
I'm really ashamed that this touches our country. I really hope that soon I won't be British.