THE GHOST OF SOMETHING PAST
How can you be gaming the system when you very clearly put an independence referendum in your manifesto, win the election based on it and then announce that you intend to fulfil your manifesto promise?
Seriously, can anyone explain that to me?
Another question I'd like answered is, given that we are all supposed to be one country, why is it that:
In Northern Ireland, an electoral generation is 7 years, whereas in Scotland it is 25 years.
When the English and Welsh voted to leave the EU, something they were quite entitled to do, once their votes were tallied with the Scots who voted 62-38 to stay in the EU and those of the Northern Irish who voted 55-45 to stay in the EU, the overall result was something in the region of 52-48 to leave. Why then, is it, that the Scots have to have 60% support for a referendum and 60% for a YES vote over a period of years? I thought I spoke Scots not badly. I had no idea that the words majority and generation had such different meanings.
**********
**********
For 'Red Tape' read 'Rules UK signed up to'. For 'EU must be Flexible' read 'Rules UK signed up to'. For 'EU attempts to Punish Us' read 'Rules UK signed up to'. For 'It's EU disrupting Trade'. Read 'Rules UK signed up to'. For 'Global Britain' read 'Bollocks'.
**********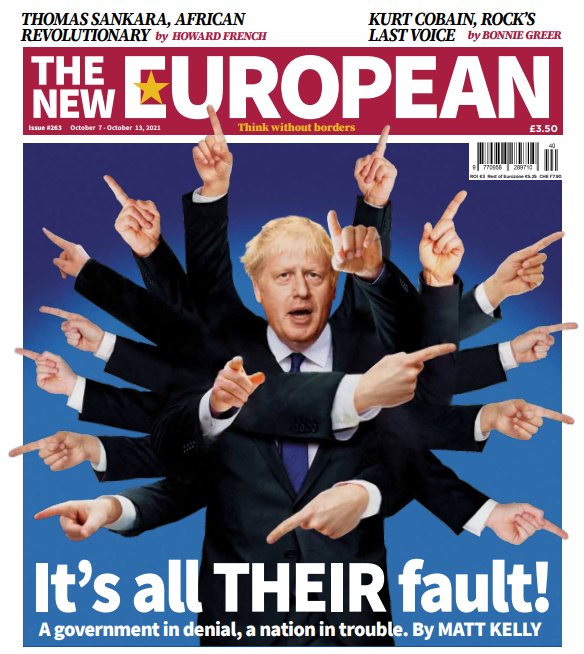 Well, the problem is (and of course this fool hasn't read it so he won't know) the Good Friday Agreement requires the Human Rights Act to incorporate the ECHR in NI. Any attempt to undermine or change adherence to the European Convention on Human Rights under the Human Rights Act would go against the UK's commitments to the Good Friday Agreement.
I just hope Joe Biden remembers the words of the Snowman.
Wouldn't it be nice if maybe just one of them was just a tiny little bit competent?
**********
Thank heavens someone can laugh at the ghastliness of it all.