Drug deaths is not a subject for any kind of humour, political posturing of or smart arsery.
So it has been a matter of some concern over the last few years when the Conservatives in Scotland have made political capital out of the undoubtedly disastrous number of deaths in Scotland.
Although I have no intention to competing with the Tories and their pet newspapers and broadcasters on this subject, it would be remis of me not to mention a few points that come to mind on the subject.
The first and most obvious point is that Policy on Drugs is reserved to Westminster. The Scottish government has looked into how other countries in Europe have dealt with the problem. [We talked about this before, particularly with regard to what has been done in Switzerland (thanks to Terry) and what has been done in Portugal (thanks to Miguel)].
As I recall the Scottish Government opened a Clean Room in Glasgow a few years ago only to receive orders from Westminster to close it down as it was illegal.
I don't doubt the idea of "clean rooms" and of needle exchanges , or the notion of legalising some drugs and introducing some sort of quality control, so that they are no longer so potentially deadly, is contentious. Legalising or allowing trained supervision of drug taking (and therefor seemingly condoning it) lights fires under some people.
Personally I'm for it. The results where it has been pioneered appear to be good and it really is being done or under serious consideration all over Europe.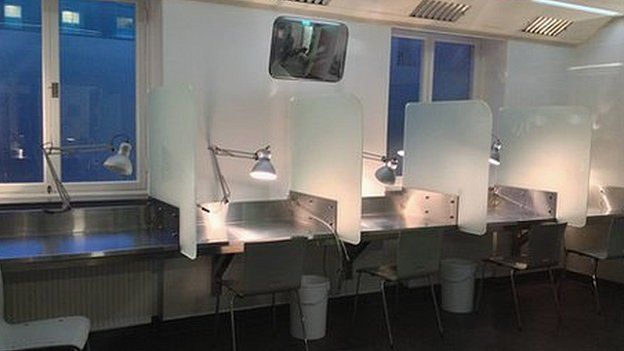 At the moment we sell cigarettes, which kill… and that appears to be OK as long as we put a gruesome picture of some cancerous part of the body on the packet along with the words "Smoking Kills".
We also happily sell alcohol, which we all know is good stuff (hic… and not in the Latin meaning), but for some people it is highly addictive and causes serious medical problems and, in many cases, death. (My own father, an uncle and an aunt died from excess alcohol consumption.) Added to that it is at the root of so much of our domestic and street violence and, of course, road accidents.
Of course, we can control what is in our cigarettes and cigars and what is our alcohol, so one puff on your legal cigarette or one sip of your legal whisky isn't going to kill you.
A fair number of deaths might be avoided if we were able to do that with our currently illegal drugs.
I was amused the other day to read that some people were absolutely determined not about to take the vaccine for Covid, because they didn't know what was in it. But how do people know what is in the pill or powder they just bought for a tenner from a bloke in the close beside the pub or in the toilets of the nightclub?
But we can't do that without Britain's (England's) permission.
Along with making sure that the drugs that are being consumed are clean, uncontaminated and in the right (non deadly) quantities, clean rooms also provide help and encouragement to people to get them off drugs and medical staff are there to spot the first signs of infection setting in.
Another point that I have forgotten about, although it has been brought up in the past, is that Scotland counts drug deaths differently from England.
I'm not sure of the veracity of this particular information. Maybe someone can confirm or deny. I would do more research myself, but I fear that my computer is breathing its last. It has taken me well over an hour to type this out. (Munguin, can I have a new computer, please?)