BECAUSE IT SEEMS THAT THE BRAVERY OF THE BRITISH ARMED FORCES DOESN'T COMPARE WITH OLD BONE SPURS THE GOLFER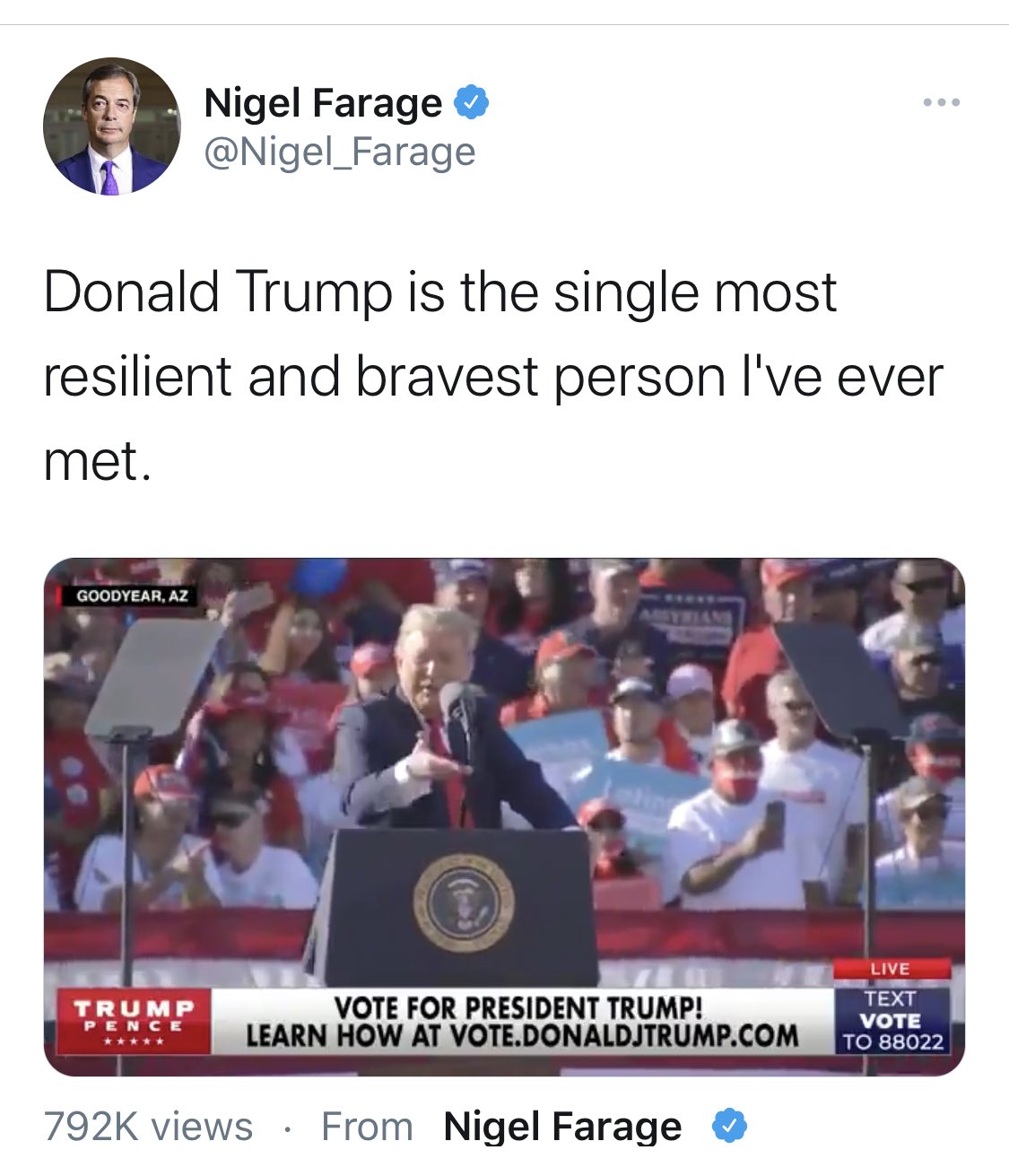 OK, let's do a quick translation.
Dear Brave Donny,
I'm a washed up politician. Well, I say politician but, rather like you, I don't really actually do any politics. But I love being up there getting adoring racist muppets cheering at me for saying outrageously stupid stuff and making impossible promises. (Have you tried the one about $350 million a week for…oh wait, you don't do health care, do you?)
You have to agree. Lying to morons feels so good, especially when you can make money out of it.
I've had a great deal of experience internationally. I've skipped meetings in Belgium, Luxembourg, England and France to go to the pub. I have turned up on occasions to make a big speech and then to turn my back as they played the European anthem. Pretty smart, huh?
However, I am kind to old ladies and often see them across the road while pulling faces.
The thing is, though, I achieved my aim. I got Brexit done all by myself with my own fair nicotine stained hands. (OK, OK, except in Jackland where I was escorted from their capital by the local police who don't seem to be nearly as friendly as our good old British bobbies).
They speak strangely there, by the way. It was almost as ghastly as being in Belgium or Luxembourg. Does anyone know what "GetTae" means?
So, I find myself, your brave magnificence, in a situation where, having achieved all that I desired, I'd now like to try something different, preferably in a totally new environment, as far away as I can reasonably get from England before the proverbial hits the proverbial, as it were.
I am willing to travel, although I prefer not to do so in Europe, but I do have a nice new German passport. I don't want to have to speak foreign a language though. I'm sure you agree that there's nothing worth saying that can't be said in good old English. I've sometimes sat on a train in England and listened to people speaking foreign around me. I can tell you, I gave me the shivers.
I enclose a copy of my CV (sorry about the beer stains and the fag burn) and I hope that you will cast your brave and resilient eyes over it.
Yours deeply respectfully to the point of utter nausea.
Nige
xx
****************