You probably though that pretty much you'd seen the worst when you watched Gove sweat and stutter, red-facedly whilst drinking enough water to relaunch the Titanic in, yesterday on the Marr show. Tad too much something on Saturday night, Mick?
But today he put in a performance in the Commons that even Theresa couldn't believe… and remember she was the girl who once ran through a cornfield.
According to Mr Peston: The face of former PM is an absolute picture when @michaelgove tells her British people would be safer from crime and terrorism if the government fails to agree crime and security agreements with EU. She could seen saying "what?!!!!!"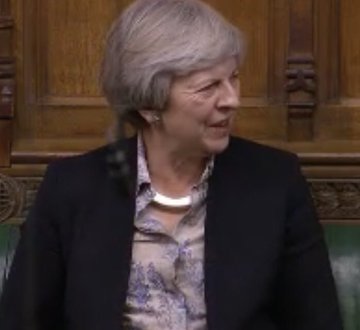 So Gove is too much for the old Magic Money Tree denier and lord knows, she could make stuff up!
Who would have thought it?
And while we are on the subject of "Eh? What?… Remember Ann Widdecombe, she who was a politician, then was a star of Strictly Come Dancing … remember this?
Well Ms Widdecombe has announced that she didn't think that people wanted to see same sex couples dancing together on television.
This has occasioned many people to comment about how little they had wanted to see her dancing on SCD, but had had to put up with it.
And then there was one person who pointed out that this was something that had been happening for many a year and wondering how she had managed to miss it!