Despite being warned most strongly by his PR staff (whom we pay) that taking part in a television interview on the Epstein affair would be seriously inadvisable. HRF, the Duke of Airmiles, decided that he knew best and went ahead with it anyway.
So his PR manager resigned… doubtless certain in the knowledge that if it all went horribly wrong, which he was sure it would, he, and not Fatso, would get the blame, the tubby one not being renowned for his humility.
So off went Porky Yorkie to the tv studio, or to be more correct, there not being a suitable helicopter available to transport him… the tv studio came to him!
And boy, did he ever make a mess of it? Despite it being a deeply respectful interview taking place in one of the royals many homes, he managed to cock it up, well and truly, whilst educating and amusing us in equal measure.
We learned that he seemed to be blessed with no real memory at all (given that he can't remember the 17-year old who was allegedly trafficked for him), but at the same time, he is blessed with total recall (as he remembers absolutely where he was 20 years ago on that particular evening when the girl was supposedly with him, and that it was at Pizza Express in Woking…a rather odd place for a prince of the blood royal to be. He remembered because it was one of the lazy princess's birthdays and his wife was away,  and they always made sure that one of them was there… [sweet], so he was definitely buying her tea a fast food place).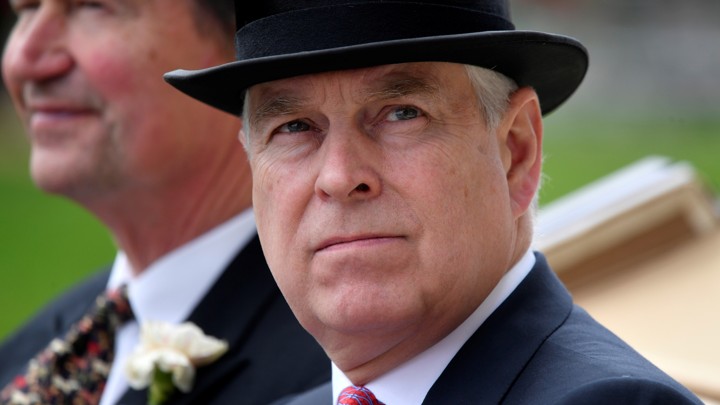 Of course, he and Mr Epstein didn't really know each other that well. He vaguely knew Epstein's girlfriend (dodgy admission to make given the crime for which Epstein was in prison for the second time), and he and the billionaire got to know each other through her.
They maybe saw each other casually a few times a year, according to the duck.
However, despite this most casual of relationships, when Epstein came out of prison after his first incarceration, Tubs felt he had to fly over to the USA, to tell the man that he couldn't see him ever again… (do royals not use email?) and he also felt honour bound to stay for four nights at one of the paedophile's  mansions and be the guest of honour at a party Eppy was throwing.
He explained that though. Turns out it was because he was just too honourable for his shirt…or something.
We also learned that for sometime after the Falklands conflict in the early 80s, he was unable to sweat, so it couldn't have been him that was getting off with the 17-year-old, because she had said that the person impersonating him that evening (while he was having a pizza with one of those blood princesses), was glowing like a pig. Must have been the chilli peppers on the pizza, methinks.
Yeah… if I'd been him I think I might have listened to my PR person. The matter, which had been one of little interest to a tiny number of people prior to the interview, was now front-page news in newspapers, and the top story on tv news bulletins, halfway around the world.
Over the last few days, charities, universities, and other organisations both in England and elsewhere that have had the Grand Old Tube of York on their headed paper have ditched him. He has become a massive embarrassment.
And I heard on the news tonight that he has decided (or someone has decided for him) that he should stand down from royal duties… or at least the two or three things he actually did every year for his massive stipend.
That'll be a huge loss to the country, right enough, but on the bright side, we can probably all claim a tax rebate on the basis that we won't any longer have to provide helicopters to take him to parties or on visits to dictators.
Who am I kidding? Like the rest of that family when they retire, he'll carry on squeezing us dry.
[PS: Incidentally, the single princess, Beatrice, was about to get married and might have expected us to fork out a few million for the carriage drive through Windsor, but it appears this may no longer be likely and they may have to nip over to Woking Registrars and pop over to the Pizza place for the breakfast.]