THE LESS ACCEPTABLE CANDIDATE WON
Still, the Tories should be pleased. They have one of their own in a position of "power" (relatively speaking).
I'm not 100% sure how it will work out for her, what with her being a Scottish MP and therefore unable to vote on the bulk of the legislation that passes through the Commons. Health, Education, Law and Order, Transport… will all be out with her remit. And while she can take part in debates on these matters, she can't vote on them unless the Speaker rules that there is a consequence for Scotland.
Many MPs might think that she will have little authority to express opinions and develop policies on matters which will not affect her constituents.
Unless, of course, Boris* wants to take these matters back into his, erm capable, erm hands in London.
(*Other possible leaders are available at much-discounted rates.)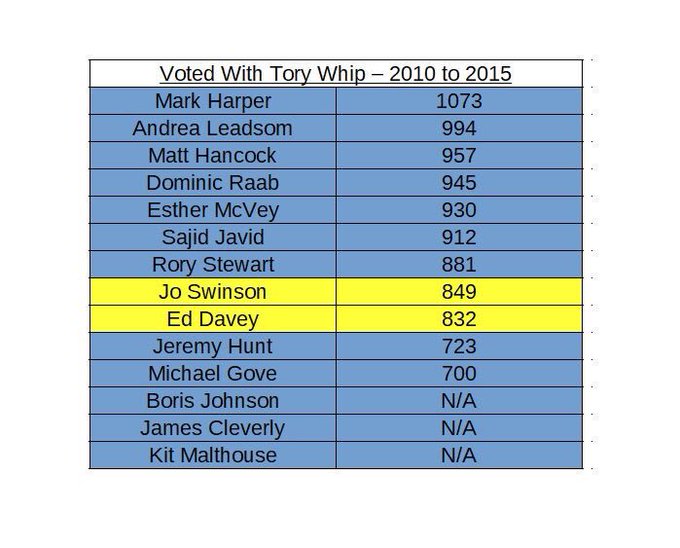 Now, in the leadership contest that actually counts, we'll know the result by this time tomorrow.
And, if as we suspect, Hunt (the one who is just as bad as Boris, but without the comic relief), loses, there are rumours that Ruth has plans to set up her own Scottish Conservative Party, you know, like Murdo suggested when he stood against her all these years ago and she utterly rejected, because Dave told her to.
This article was, of course, originally published in the Daily Mail's Scottish edition,  and is, therefore, linked with attendant caveats.
But you can't help wondering if this wouldn't have the effect of further splitting the Conservatives in Scotland. There are already those who are 100% behind Brexit, no matter the cost. How could these Tories (I know one) get behind a Euro-friendly Scottish party? And wouldn't they think it pandering to the dreaded "separatism"
Ahhh…with Boris, I doubt that life will ever be dull.