************
It seems that Good Morning Britain deleted this tweet very rapidly after putting it up… but on the internet, there's always someone who's kept it for sentimental reasons, or something! Stuff on the net never really goes away, eh Piers?
**********
Boris, seemingly determined to make Hunt prime minister, has appointed none other than Ross Thomson to be his campaign manager in Scotland and his advisor on Scotland and Scottish affairs. Presumably Ross will be hoping to take over from Fluffs as the McTea boy in chief at Downing Street.
But given that Boris has to get there first, he might have been advised to choose someone who knew just a little about Scotland or was at least slightly in touch with the country, as his advisor.
Ross is telling anyone who will listen that Boris is the prime minister to put the fear of whatever into Nicola Sturgeon. (You may remember that, yesterday, it was Hunt that was saying that distinction fell to him!)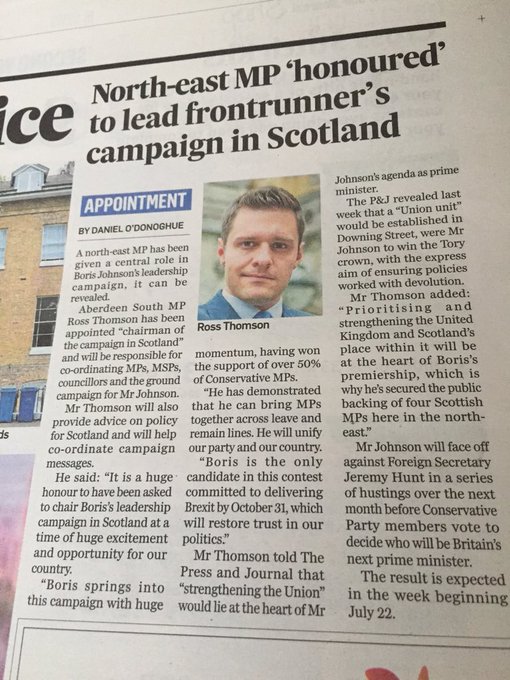 So, as we said yesterday… just two words on that. "Jim" and "Murphy"!
I'd also point wee Rossy in the direction of material that suggests a somewhat different or contrary conclusion.
************
************
I bet the 2-3% of people who pushed the "leave" vote over the line in England and Wales weren't as aware as they might have been that companies would go bust and jobs would be lost as a direct result of their choice.
I suspect that many were simply rejoicing at £350 million a week for the NHS and getting rid of foreigners from their care homes and farms and shops and factories leaving lots of jobs for "hard-working decent British families up and down the country", as they are wont to say.
It's such a pity that the Leave Campaign wasn't as honest as it might have been.
************
There may be little point in electing Boris as prime minister. His own side has threatened to bring him down and start the process all over again if he tries to take the UK out of the EU without a deal.
The problem is that Hunt has more or less made the same promise (see above). Leave on October 31, come what may.
So whoever is the next prime minister may find himself in the records for all the wrong reasons and beat George Canning as the shortest ever serving PM (119 days). At least Canning had had a relatively distinguished career before that.
But, can you just imagine a second contest within a couple of weeks? Quite apart from the laughing stock that the UK would be around the world (about which I care little), we'd be obliged to suffer Leadsom and McVey and the wee goblin Gove, appearing on tv, radio and social media all over again.
Oh please, no!
************
************