BUT THERE ARE SOME FUN BITS IN IT TOO…
At a campaign launch for the European Elections, The Right Honourable Colonel Davidson told the assembled that the SNP should move on from the constitutional debate. (Rich, coming from someone who talks of little else and whose obsession with Nicola Sturgeon rather than any possible Tory policies, is becoming frightening)
"Ms Davidson spoke out against having a new vote on Brexit or on independence.
"The Scottish Tory leader said the UK should "leave the European Union in an orderly manner" and move on to new debates.
"Ms Davidson said a vote for her party would "respect the result of referendums", pledging "to honour the voices of millions of people (*in Scotland) who told us Scotland should stay in the UK, and (*in England and Wales) that Scotland should leave the EU".
*My additions!
Somewhat embarrassingly, but not particularly surprisingly, dear old Theresa knocked that little number right on the head this afternoon in what was probably a fruitless attempt to get her EU-agreed plan for Brexit over the line.
As part of her speech to the nation (it should surely have been nations), Strong and Stable Treeza said:
"So to those MPs who want a second referendum to confirm the deal: you need a deal and therefore a Withdrawal Agreement Bill to make it happen." 
The PM might not have guaranteed a second EU referendum, but her promise of a vote on one puts the Scottish Tories 'vote for us for no more referendums on anything ever' pitch on something of a sticky wicket. Just an amusing aside.
Ruthie must be fair fizzing. Two days from the elections and the main, nae, the only plank of her campaign has been knocked sideways for six and nailed to the roof.
Still, nothing new there. Anyone who remembers Ruth's "lines in the sand" nonsense which was abandoned sharpish when Cameron changed his wee mind, won't be terribly surprised that May has left her Scottish branch looking like it fell aff the tree!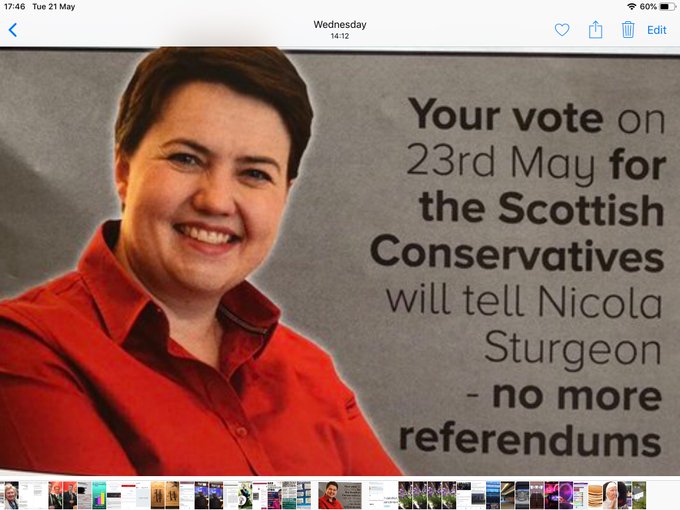 ++++++++++
A couple of fun tweets… just to show how well her latest plan is going.
Dominic Raab 
@DominicRaab
I listened carefully to the PM's speech on the govt's revised terms of Brexit. I cannot support legislation that would be the vehicle for a second referendum or Customs Union. Either option would frustrate rather than deliver Brexit – and break our clear manifesto promises.
++++++++++
Boris Johnson @BorisJohnson
With great reluctance I backed MV3. Now we are being asked to vote for a customs union and a second referendum. The Bill is directly against our manifesto – and I will not vote for it. We can and must do better – and deliver what the people voted for.
++++++++++
++++++++++