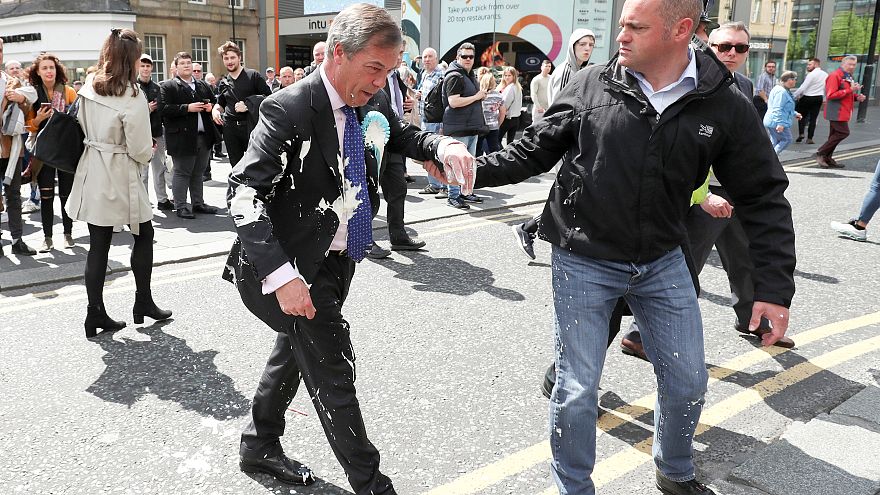 Today in Newcastle, England, someone threw a milkshake over Mr Farage's expensive suit. And some Remainers are celebrating this.
But not Tris or Munguin. Are we alone in this?
The way to win political arguments is by having strong counter-arguments to offer, not soaking people in milk, no matter what flavour.
Seriously, many people had a laugh about it because, among Remainers, Nigel Farage is a hate figure, a bit ridiculous and well… it serves him right.
Fair enough. But, apart from giving people a laugh, what has this action done?
Well first, it seems to be the main story everywhere. The Twittersphere is humming with it. But I've yet to see social media mention of the fact that the Electoral Commission is looking into the financing of Mr Farage's new party, although to be fair it is being covered by the old media.
James O'Brien
If I was worried about a former Prime Minister expressing fears about my new 'party' laundering dirty foreign money, I would probably pay someone to lob a milkshake at me & hope that the relatively trivial story distracted attention from the profoundly serious one.
So, intentional or not, there it is: people are talking about the milkshake and not about the possible criminality.
Secondly, covering someone, even Farage, in milkshake, is violence. And no matter how satisfying it is to see, it's simply increased the likelihood of retaliatory violence from his supporters, and they might not use milkshakes.
Added to which, at the moment it has given him victim status.
And thirdly, how many people will it have persuaded to change their votes on Thursday? Well, probably none at all… but if any, it will have persuaded them the wrong way.
I can see why people think it is amusing, and in a way it is, so I don't want to fight about it, but in my opinion, it will be counterproductive.
**********
That was then…
…and this is now

Donald J. Trump
@realDonaldTrump
If Iran wants to fight, that will be the official end of Iran. Never threaten the United States again!
HMMMMMMMMMMMMMMMMMMMM…
**********