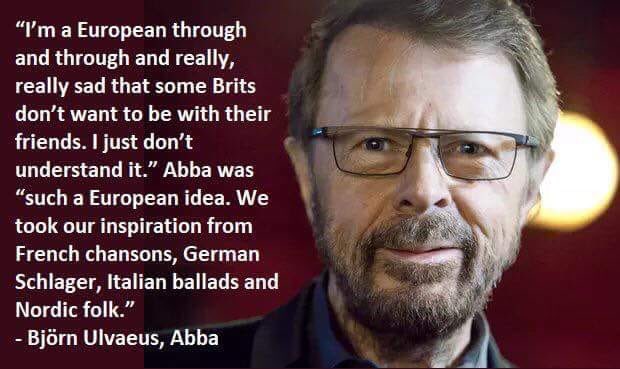 So, Björn Ulvaeus is anti-Brexit.
And Benny Andersson has previously warned a right-wing party in Denmark not to use Abba music in political campaigns.
But no one yet knows how they feel about the Maybot stumbling about on stage to Dancing Queen
Musicians obviously have the right to be consulted about who uses their music. The Foo Fighters kicked off in 2008 when John McCain and Sarah Palin used their track at a rally.
Trump recently used an Adele song at a rally which drew this strict retort from her management: "Adele has not given permission for her music to be used for any political campaigning."
This is maybe something all politicos might think about before they appropriate someone else's music. Not everyone wants their music associated with a particular cause, whatever it is. Permission should always be obtained in advance of use. Remember it says somewhere on all discs: "Unauthorised public performance, broadcast and copying prohibited"
But, I think, if I were May, I would get in touch with these two and see if they would allow her to use this…
Even if not, just listen to these voices…