Apparently Mrs May is set to tell the Commons that, following her speech in Florence (where she told the Europeans that we had never liked them anyway, and always felt awkward in the same room as them…wasn't she supposedly a remainer?), it was now up to them to come forward with a solution.
It seems to be "job done" as far as she is concerned.
This, from the text of her speech to Europe:

On the other hand, it seems that Philip Hammond says this: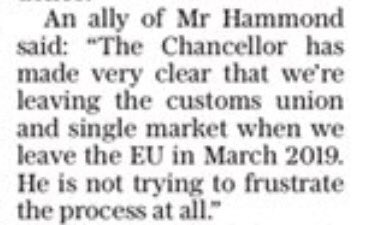 And here's wee Foxy.

And that appears to be true at VERY considerable costs. From the Telegraph:
Theresa May has decided to commit billions of pounds on preparing Britain to leave the European Union without a deal in a bid to save her premiership.
The spending, which will be "unlocked" in the new year if no progress is made with Brussels, is intended to send a signal to pro-Brexit MPs that she is serious about regaining the upper hand in the negotiations.
Dominic Raab tells the BBC that planning to leave with no deal is underway. The cost of this will be billions.
(So she's prepared to spend billions on saving her premiership, according to a hardline Tory paper.  That magic money tree is beginning to look as if it is her personal property, to be used only in the event of some event threatening to derail her.)
It's all very well throwing the ball to Europe and telling them it's in their court but they seem to be throwing several different types of ball. Mr Barnier doesn't know whether he needs a tennis racquet, a baseball bat, a golf club or a pair of football boots.
But we can't help thinking that "the ball's on the slates", rather than on anyone else's court.
Wouldn't be nice if Britain had a realistic coherent policy on Brexit?
With thanks to Ian Dunt for the quotes from May, Hammond's ally and Fox.

Theresa May will say in the Commons today that after her Florence speech, "the ball is in [the EU's] court".